Hello everyone, recently I finally filled in my lower three grills on my 1.8T after about a year of them being empty. I never liked the plastic inserts that Volkswagen puts in there from the the factory as I feel they look too docile and too indicative of the Golf, the GTI needs something sportier. Something like this
So how do we achieve a honeycomb style black mesh grill on a budget? This has been done thousands of times before but I thought I'd share my experience with this visual mod and hopefully inspire others to do so because it's very easy.
First we need materials, which are only two and should cost you under $30 for both.
First you need expanded metal.
I found that this stuff worked best for me.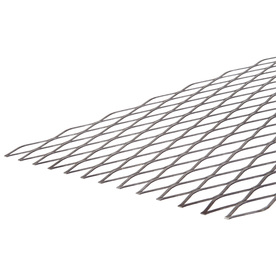 I found it at my local Lowes and it was about $9 a sheet. You'll need two of them though. If you intend to buy them at the store they are in cardboard boxes near the other sheet metal in the hardware section. They're a bit tricky to find. I found mine nearly laying on the ground on the bottom of the shelving unit almost out of sight
Here's the link -
http://www.lowes.com/pd_168753-3767...l=1&currentURL=?Ntt=expanded+metal&facetInfo=
You'll also need this paint
It works wonderfully and can be found anywhere where paint is sold. It's extremely tough and after having my grills in for a month now, there are not chips or defects.
You'll also need the smallest and shortest screws you can find to fasten the custom made grill pieces to the bumper
As far as equipment goes
-torx bits to remove front bumper.
-metal sheers to cut expanded sheets
-gloves to protect hands while cutting metal as it can get sharp
-hammer to pound sheets to form fit metal
I don't have a lot of pictures so I apologize but hopefully this is pretty self explanatory.
First off, you have to remove your bumper.
Heres how -
http://jettajunkie.com/vw-jetta/showthread.php?8908-MK4-Front-Bumper-Removal
With your bumper removed you have two options presented to you in order to proceed, one is to sacrifice the lower two bodywork extensions in the corner of the left and right grill openings under the headlights that hold the bumper to the bottom of the car or carefully cut the sheet metal to form fit these left and right lower openings. That seems way to hard for me, so I cut the pieces off. The plastic is very malleable so cut it and file or sand it down to make it look nice. I don't have any pictures so I apologize if it's a little confusing. It'll make more sense in a little bit.
Now it's time to cut the sheet metal into rough shapes and then paint them. This is an example of a piece cut and painted.
You'll need 4 pieces in total, two for the left and right grill openings and two for the center opening.
After they're all cut and painted, it's time to lay them behind the bumper openings and pound the edges a around the bodywork to make the metal form fit the openings. The metal bends nicely so you could also do this with your hands and a pair of gloves.
This is an example of what this process should resemble. Notice the top left corner of the right bumper opening in the picture. There used to be one of those bodywork extensions for the screw to fasten into the car, as you can see it's now cut and ready to accept a flat piece of metal to be pounded around it.
The two pieces in the center opening will obviously need to be lined up properly so this takes a bit a work and adjustments.
When the metal is form fitted behind your bumper now you must drill in the tiny screws mentioned earlier. They should be placed in the corners of the diamonds that this material is patterned and comprised of. Drill them in at an angle and be very careful not to piers through to the other side.
Test your the pieces for strength as you obviously don't want them falling out or coming loose while driving.
After all this it should look something like this.
And here's how it look with the bumper reinstalled
There you have it, it took me just a day to do this and I apologize for the vague write up but I'll be happy to answer any questions.
Thanks!