Well I wanted to document all the work I am going to be doing to this thing..(budget build).and document costs as well...
So I used Craigslist and traded a Silver 01 Ford Expedition with 174K miles and problems for a Silver 01 GTI 1.8T Auto 130K miles..and problems... wanted something more fuel efficient as a daily driver and a second car.
(
I have a previous thread about slowness issues that I got resolved
) but after spending $400 with the dealer, I quickly realize it will be better if I figure out how to do the work myself.
So here is the current build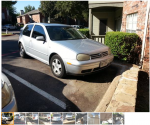 After I took it to a local mechanic he gave me this laundry list of things I need to fix.
about $4k worth of stuff haha..great. Gonna try to do it myself and see how much I save..
Work Already Done to the car:
NGK Sparkplugs Iridium $N/A
Mass Airflow Sensor $N/A
Coil Packs and Harnesses $N/A
Timing Belt $N/A
Water Pump $N/A
Fuel Filter $N/A
Coolant Flange and Turbo Inlet Tube $450 with labor
Work Needed:
Lower Control Arms (right and left)
Inner and Outer Tie Rods (right and left)
Subframe
Front Brakes and Rotors
Rear Brakes and Rotors
CV Joint Inner Boot ripped
Secondary Air Pump/Replace hoses (identify vacuum leak)
Front Suspension and Mounts
Rear Shocks
Fuse Box
Side marker light
Purchased Waiting on Install:
Lower Control Arms (right and left)
Inner and Outer Tie Rods (right and left)
Ebay: $96.50 for full kit of both arms and tie rods
Subframe
Ebay:$108 shipped (used in good condition)
Front Brakes and Rotors
Ebay:$175.33 (Cross Drilled/Slotted Combo Rotor with brakes Front)
Rear Spoiler
Ebay: Painted and Shipped: $199.95
New Remote Key Shell
Amazon.com $8.54
Headlight Lenses
Ebay:$79.80 Left and Right
(installed left, looked so good I had to buy the right one too)
Still need to purchase/replace
CV Joint Inner Boot ripped: Replaced whole unit $55 (Pepboys)
Secondary Air Pump/Replace hoses (identify vacuumm leak)
Rear Brakes and Rotors $107 (Amazon)
Front Suspension and Mounts $220 (Autozone OEM replacments will do coil overs next year)
Rear Suspension $49 - (Ebay OEM replacements)
Fuse Box (n/a)
Maintenance before fun...ughh sucks..
Total in parts/labor so far: $1118.12
Mod Want List:
18 inch New Rims (Ebay $510.00)
Stage 1 ... ($499)
3'inch Downpipe (Ebay -obx 3in catted $199)
CoilOvers (not sure yet)
CAI CMP (Ebay $34.99 with filter)
NAV head unit (not sure yet)
Front Seats (these are ripped)
Rear Sway Bar ($299)
Front and rear valance( $400)
Current status is.
11/7 subframe is removed, attached driver side control arm to subframe, now planning day to reinstall all of the above...
11/11 subframe, lower control arms, cv axle, tie rods, ball joints, front struts, drilled and slotted rotors and ceramic brakes all installed.
Rear Spoiler Installed..
Before: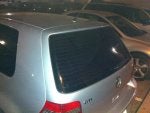 After:
Rotor look nice too!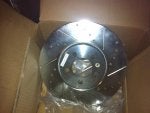 More coming soon...