I finally installed my mounting kit. There are a bunch of DIY posts but none of them cover a few things that might help others doing the install.
1. You do not want to raise your car too high
when installing the Engine and Tranny mounts. It is easier for you to work on the engine bay but too high for your jack to provide support for each side of your car when removing the OEM mounts. To avoid wasting time readjusting the stands plan that part ahead. This will save you some time during the install.
2. Engine mount prep (passenger side).
You can work on that side without actually removing your coolant tank and water hose. Just spread them aside and for the coolant, use the sharp "spike" against the hood "lifter" to keep that damn thing away... it keeps bouncing back into place if not secured. If you do it this way it will not bother you at all.
Engine Mount Torque Spec
Mount to body - 30ft lbs / Mount to Engine - 44 Ft lbs
Mount top Bolt - 30ft lbs / Bracket to Body 18ft lbs
Install one mount at a time
Support engine from below
Must use a torque wrench
Recheck torque after 200 miles
3. Tranny mount (driver side).
There are a few cables on top of the OEM mount. Those cables are nicely attached to some kind of tray and tightly secured. They are attached to a white grip and you want to gently pull the whole thing straight up. I do not recommend the use of force since those are plastic grips and you do not want things loose. Once you detach the tray you do not need to remove it. I worked around it by pulling towards the engine so it gives you room to work on those 4 smaller screws.
Transmission Mount Torque Spec
Mount to Body - 30ft lbs / Mount to Transmission - 44 Ft lbs
Mount top Bolt - 30ft lbs
Install one mount at a time
Support engine from below
Must use a torque wrench
Recheck torque after 200 miles
4. Pendulum and Dogbone Insert.
Make sure you know where everything fits. There are a lot of loose parts and it was much easier to mount everything under the car then have all parts attached and them try to mount it altogether. After you remove the OEM Billet you want to lube that insert with some Silicone Lube (this damn thing works). It will be much easier for you to slide the insert without the Pendulum. Here's the trick: That insert is really flexible. I pushed it in a little bit and got the 2 "spikes" out of it. I pushed the larger part of the insert all the way through - as far as i could go (around 85-90% in). Then, I inserted the longer and thicker part of the Pendulum all the way in and got the 2 "spikes" of the insert in there after that. It went in so much easier... i hammered that baby in... no need for the jack.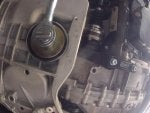 And the Pendulum mount is available on BSH website
http://www.bshspeedshop.com/bshstore/instructions/MKV_Pendulum_Mount.pdf
REVIEW:
I was expecting a huge amount of vibrations. Just slightly, nothing that actually bothers me. It is noticeable when the car is stopped but not bad at all, in fact i kind of like it a little bit. That whole 'too quiet', not stiff thing was driving a bit crazy.
The car is definitely louder. I am not sure why and could not get it either. The sound is thicker, meaner, AWESOME.
I went for a quick drive to test it. The car feels stiffer, the engine does not flop anymore when changing gears and there is virtually no wheel hop. I got some skids but no hop... i fahking love this ****e!
My only regret here is not to have this thing installed before.
This dude from another forum has a DIY post on a SPM mount. Just in case you want to know the process. all the specs i have for the BSH was given by the BSH Team.