Discussion Starter
•
#1
•
Hi,
Back in 2008 I started a thread to document my efforts to develop a dash-top display to show speed or revs and what gear my DSG was in. See
http://myfastgti.com/volkswagen/threads/4090-DSG-Dashtop-Display
.
The resulting prototype looked terrible but it did work . In fact it worked so well it followed me through three different GTI's over the past 5 years.
However, technology has caught up with me and my old dash display has been retired from active service, replaced by an android tablet and some clever software apps. Here is the result: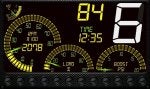 The screen is an android tablet (Samsung Tab 7.7) and the app is TorquePro with the Racing Meter plug-in. The tablet currently is just sitting on top of the steering wheel until I decide on the final screen size and location. The tablet gets its data from the car via a bluetooth dongle plugged into the OBD2 port. Overall a much simpler and neater setup compared to my 2008 design. it is also much easier to add/remove gauges and change the look and position of them. Currently, I am displaying Gear, Speed, Revs, water temp, engine load, boost and clock with shift LEDs on the bottom row. You can create multiple different layouts and switch between them on the fly by touching the screen. Overall very pleased with the result.