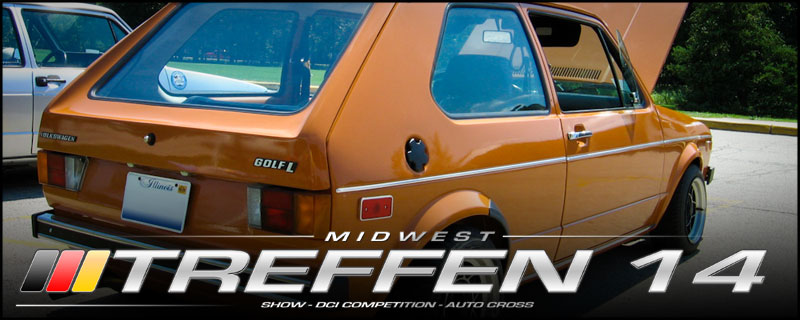 ​
Treffen 2010 is almost here! Clear your schedule and join us August 21st & 22nd
Location:
Oakton Community College
1600E Golf Road
Des Plaines, IL (Chicago)
Midwest Treffen is not just a car show! It is, as always, a 'family reunion' for Volkswagen and Audi owners and enthusiasts and has grown to be the Midwest's largest event of its kind.
Midwest Treffen has become a full weekend of events and activities including:
CVO's regularly occurring Friday Cruise Night, come and join us at Portillo's in Schaumburg at 8:00 pm for our low key get together. We'll be meeting and hanging out in the back until the lights go out (closing time) at 11:00pm. Come on out for a hot dog, a burger, or even a chocolate cake shake (not for the faint of heart).
A competitive autocross open to all willing to pit their skills in a safe, fun environment against other VW and Audi owners from around the midwest.
A Pre-show party on Saturday night (August 21). Come out and meet a whole lot of people, have some refreshments, and see some really great machines. We're taking over The Glen Town Center in Glenview, IL this year, just a stone's throw from the show.
A HUGE Volkswagen/Audi car show on Sunday (August 22nd)! Come out and see what the midwest's best has to offer!
Dub Club Invitational (DCI) competition - bring the best from your VW club and compete against other VW clubs for fun, a ridiculously large trophy, and prizes!
So much more!
This year promises to be another great weekend, so mark your calendar! Pre-registration and more detailed event information (hotels, etc) can be found on the
Midwest Treffen
website.
Midwest Treffen is produced yearly by the Chicago Volkswagen Organization, and entirely staffed by volunteers. If you would like more information about CVO, please visit our website at
www.chicagovw.org
Midwest Treffen 2010 Details
Autocross
The autocross will take place all day Saturday, August 21st at Oakton Community College. Registration runs from 7:30-8:30AM, with tech running 7:30-9:30AM, and first car off at 9:35AM. Don't forget, even if you don't have a car to run (or a car you don't
want
to run), that doesn't mean you can't come out and spectate and cheer people on!
Car Show
The car show will take place all day Sunday, August 22nd at Oakton Community College. Registration runs from 9AM-12PM, with voting running from 11:30AM-1:30PM and awards at 3PM. We're bringing back both the car classes that we had last year as well as the "club & enthusiast" parking area. The car show classes break down as follows:
A1 - Rabbit/Jetta/Caddy/Cabriolet/Scirocco I & II
A2 - Golf/Jetta/Corrado
A3 - Golf/Jetta/Cabrio
A4 - Golf/Jetta/Cabrio (MK4 Facelift)
A5 - Rabbit/Jetta/EOS
A6 - Golf/Jetta
VW B Platform - Dasher, Quantum, Passat & CC
Other VW - Routan, Touareg, Tiguan, Fox, Phaeton, EuroVan, Aircooled, New Beetle
Early Audi A4/S4/RS4 (up to 2002)
Late Audi A4/S4/RS4 (2002 and newer)
Other Audi - Audi A3, A5, A6, A8, TT, Coupe, 4000, 5000, 80, 90, 100, 200, etc
Best in Show
Club & Enthusiast Area
The Club and Enthusiast parking was setup for people who were more concerned with being at the show than necessarily showing their car. Just want to hang out and park with your buddies regardless of what class they'd be in? Don't feel that your car is "show worthy"? (protip: if you try to park a nice car in spectator parking, we reserve the right to heckle you until you at least put it in the Club/Enthusiast area). This is the spot for you! As we had last year, we've also got a few trophy's to hand out again specifically for the Club/Enthusiast area, plus you still get raffle tickets and all the sponsor freebies/info that you would get if you entered the show as well.
That said, if you want your own spot reserved in the Club/Enthusiast area, please post up how many cars are coming out so we can chalk out a spot in the lot for MyFastGTi
Show Pricing
For those unfamiliar with Treffen, or curious about the fees for Club/Spectator area, here's where they stand:
Car Show - $20, 5 raffle tickets
Club/Enthusiast - $10, 3 raffle tickets
Spectator Parking - $2, 1 raffle ticket per person